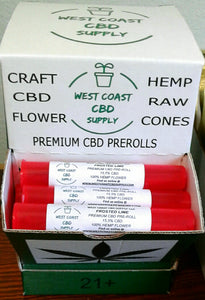 *Retail store display box with 25 or 50 standard pre-rolls. Contact support for wholesale pricing.
This dispenser box is reusable.
Frosted lime craft CBD flower pre-rolls! Each pre-roll contains .7 of a gram of flower. Premium Oregon hemp flower done right. Grown using organic farming practices. Nice mid day pick me up effect. Great relief at anytime of day. Offers a nice calming and relaxing effect to help slow your thoughts down. Good for stressful days when you still need to focus. Grown right in the ground in rich, fertile central Oregon volcanic soils. The water that fed the plants originates from streams that flow down from high in the Cascade mountain range. 15.5 % CBD. Contains no delta 9 THC! Has a potent, skunky, earthy, and purple-lime like taste!
This flower was grown using no synthetic fertilizers, sprays, or pesticides.
While our CBD flower products have an extremely low concentration of THC, West Coast CBD Supply LLC makes no guarantee that any individual will be able to pass a drug test after using this product.
*Must be 21 or older to purchase.